By Jenny Baron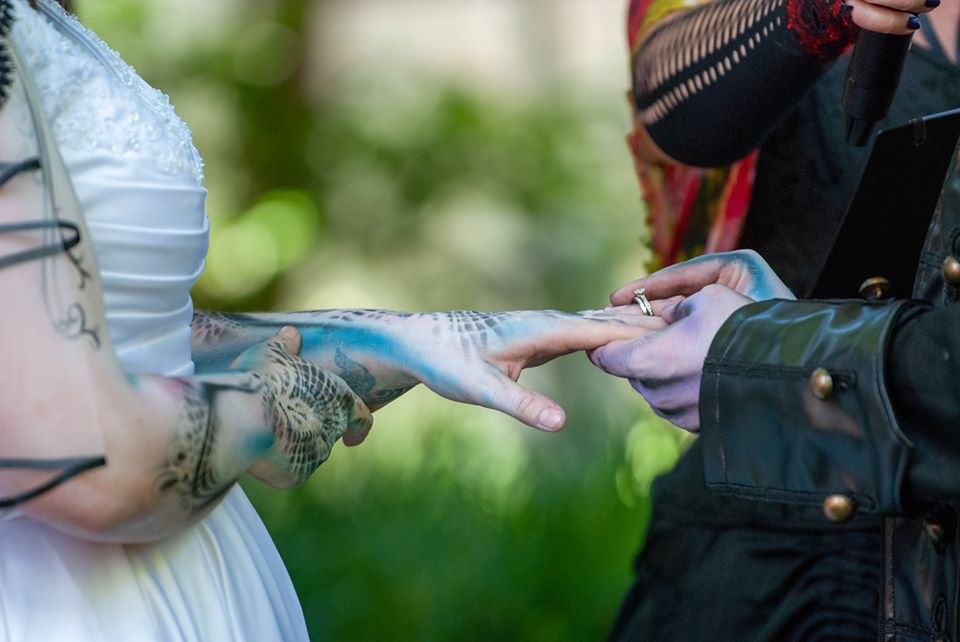 Not long after I became registered as a Marriage Celebrant, I came across an organisation which gifts weddings to the terminally ill, called My Wedding Wish. Although the organisation is based in Queensland and there was not yet a WA Chapter, I joined as a Supplier because my heart told me to.
Recently I happened to notice a Facebook post from their page pop up on my phone, asking for vendors for a wedding for a young couple in 3 weeks' time. Without a second thought, I responded that I would like to be considered for the role of Celebrant. Then I received a message from one of the WA Coordinators asking if they could phone me asap. I was at work so stepped outside to take the call. The Coordinator gave me as much detail as she had to hand at the time and I felt every emotion on the spectrum as I listened. The groom (I'll call him "B") has Stage 4 metastatic melanoma, which is a melanoma that has spread to other areas of the body and in his case to his brain. He is 31, and his bride is 28. He has survived 2 brain surgeries, Meningitis, and an almost fatal allergic reaction to medications.
They had chosen a theme for their wedding – Dia de Los Muertos, "Day of the Dead", the annual Mexican celebration. On the Day of the Dead, it's believed that the border between the spirit world and the real-world dissolve. During this brief period, which is traditionally celebrated between October 31st and November 2nd, the souls of the dead awaken and return to the living world to feast, drink, dance and play music with their loved ones. In turn, the living family members treat the deceased as honoured guests in their celebrations. It's an occasion for remembering and celebrating those who have passed on from this world, while at the same time portraying death in a more positive light, as a natural part of the human experience. At that stage I hadn't learned the reason behind their choice of theme.
I told the coordinator how apprehensive I felt that I may not be able to do it justice. But her encouragement and calming voice struck a chord and I agreed to give it my best shot. I wasn't shocked or judgemental at all about the theme (more a little excited), just worried I couldn't pull it off. Things went into overdrive from that moment. She gave me the bride's phone number and I messaged her asking when would be the best time to call. A private Facebook page was set up for all the vendors who had volunteered for this, the first gifted wedding wish by this organisation in Western Australia, and planning was set in motion. At the speed of light!
I spoke to the bride (I'll call her "T") on the phone to introduce myself and explain what was required to be married in less than the one-month legal notice timeframe. That meant applying in person to the Registry of Births, Deaths and Marriages in the city for a "Shortening of Time", which is granted in extenuating circumstances, provided there is enough proof and documentation for the request. T made an appointment with BDM and I agreed to meet the couple outside the registry with my side of the legal paperwork and attend the appointment with them.
Walking to the building I realised I didn't know who to look for. I'd worn my Celebrant badge so they would know who I was. As I walked, a young bald-headed man dressed all in black, walked towards me and as we passed, I thought what a kind face he had. There was only one person outside the Registry building, a young woman who started excitedly waving at me as I approached. And so, I met the beautiful bubbly T. She explained that B had just walked away to find some shade as he can't be in the sunlight for very long. I turned around to see the young man in black again, coming to join us. He was B. The sheer joy radiating from the two of them made my heart sing. There is no way to not use clichés in this story I'm afraid. We headed in to the building for the application appointment and were shown into an office with huge windows and the most amazing views of the river and the city. B and T chatted excitedly about how lucky they were, just to have the opportunity to see that view. The BDM officer was lovely and the application was approved and stamped within minutes. The wedding was on!! I asked B and T what they had planned for the rest of their day, and B said T had arranged a trip to Fremantle for the afternoon and he was excited but hoping he would have the stamina to spend that much time out and about. They said they would email me their story/stories for me to begin creating their ceremony and kept saying how overwhelmingly grateful they were for the generosity of everyone involved. I was the one feeling grateful. I had just met two of the most amazing young people, whose pasts had been far from easy, and whose marriage would be so short, yet they are amazingly, infectiously positive and uplifting.
I started researching their theme for the wedding, which I had learned was chosen because they wanted it to be a celebration and not focus on the fact that B would not be with us for long, but also to make it easier for family and friends to understand that they are not afraid of what comes next and are at peace with that. They also wanted loved ones they had lost, some in tragic circumstances, welcomed to the wedding in spirit and an altar would be set up with their photos and memorabilia. A Death Doula would speak to those spirits and welcome them to the celebration before I started the ceremony. The other Vendors included those who had supplied a venue for the day and the catering, a florist, a cake maker, an event set up company, photographer, videographers, limousine companies, transport for family to the venue on the day, the City of Perth allocated parking bays outside the venue specifically for the wedding vehicles etc, a media PR company, hairdresser for the bridal party, and more. The generosity of everyone involved was beyond awesome given they all had less than 3 weeks to arrange everything. All the vendors were invited to the wedding by the couple and they hoped we would all dress for the theme as much as we could. The venue had an outdoor garden space for the day and had offered it for 4 hours despite the fact they were also hosting a huge wedding at 5pm that day. Consideration had to be given to the fact that B would need to be in shade as much as possible and be able to be seated as often as necessary. Nothing was too much trouble.
I visited B and T at their home two nights before the wedding day for them to sign the last of the pre-wedding paperwork. Their excitement was tangible, even as tired as B was, he wanted to show me the top hat that T had decorated for him to wear, and the shirt that a friend had hand embroidered. T had crocheted a massive colourful shawl in less than 3 days, and had made tiny succulent pots to give each wedding guest. I was glad I had gone the whole hog with my wardrobe for the day so they would know how invested I was in making sure they had their wedding wish. When I left them that night, I realised I felt so light, happy and uplifted and found that strange, given the circumstances. But that is B and T. You can't meet them and not come away feeling so happy and grateful to be alive.
Then I had another thought. I had created my outfit mostly myself, but had bought a heavy black corset that could only be done up at the back. And on the morning of the wedding I had a make-up artist appointment at 7.30am, and had to be at the venue in full regalia by 10am. And I would be home alone. How the heck was I going to get into the corset alone, then order an Uber dressed as I was with my face painted like a Halloween mask and make sure the Uber driver wouldn't do a u-turn upon seeing me and leave me on the kerb!? Then I remembered my friend Jodie, whose generosity is renowned amongst her friends. One quick call to Jodie and not only did I have a wardrobe mistress, but she also offered to be my chauffeur to and from the venue. More generosity!
I was dressed and ready (without the over-corset yet) and at the Make-up artist's home at 7.30am. The lovely V (who had been recommended to me by a friend who loves Halloween and the makeup that comes with it) answered the door, with a baby on her hip and two littlies either side of her. She apologised for the chaos but they had only arrived home from a family holiday in Queensland at midnight and her husband was with her mother-in-law who had been taken to hospital. When I asked why on earth, she was still taking me on with all that happening, she said "Are you kidding? I wasn't going to miss helping you do what you're going to do today!" Still more generosity!
So, makeup done, much hilarity had while Jodie (who describes herself as the least girly-girl on the planet and had never had to squeeze a friend into a corset before) and I struggled with the corset-donning, off we went. Jodie pulled up in the designated parking bays and helped me out of the car much to the bemusement of many nearby construction workers, and off I went up the garden path with my suitcase on wheels wobbling behind me. The set-up for the ceremony had begun but I had no idea who to look for – all I had were the two coordinators names. But they saw me coming and said "You just have to be Jenny". There were hugs and a couple of tears at the thought of what we were about to create. The place looked amazing. The weather was perfect. The altar, separate from the arbour where the ceremony would be held, was amazing. The bride would be at least 20 minutes late – the bridesmaid who was in charge of the rings had left them home – all the usual wedding day stories! The videographers struggled to hook me up with microphone gear in that danged corset. And then B arrived in a vintage Ford especially chosen for him by the Vendor providing transport as he'd heard B was a Ford fan. He looked A-mazing!! His makeup helped hide how seriously ill he is, which is a bit of an oxymoron as he was painted as a death skull! B and T had also chosen a Celtic handfasting as part of their ceremony so I had googled the heck out of You Tube videos to practice that one. B was bringing the 3 cords created by T to me before the service. He handed me a small wooden coffin engraved with their names and said he bet I hadn't expected the cords to arrive in a box like that. Now, almost 3 weeks since I put my hand up to be the Celebrant, absolutely nothing at all surprised me about this wedding, and I told B I would have expected nothing else! B and T had wanted to write their own personal vows and keep them to themselves until they were to read them. I checked B had his with him. Yes. He had two copies, one in each pocket in case he lost one. B and T had also hired a body paint artist to paint guests faces as they arrived if they wished. That was a huge hit! As was "Elvi the Art God", the face painter.
And then the bride arrived. B and I stood at the arbour and I watched their faces as T approached. I have no words to describe the almost visible bond between them, and the love in their eyes. I had created the ceremony in the tone they requested – slightly Pagan, slightly Goth, a little Celtic, inclusive of their 3 lost loved ones, and I threw in some Spanish phrases to fit the theme. The vows they had written to each other left no dry eye amongst the guests, the nearby workmen, the passers by on their lunchbreaks. B's speech was full of awe that their wish had been granted and was everything they had dreamed of and more. More tears!
It was a pleasure and a privilege for me to present B and T to the guests, in English as well as Spanish, as Mr and Mrs. They have added more to my life than they will ever know. We may have granted their wedding wish, but they gave us so much more. Whilst they requested privacy up to and including the day, their story is now published on the My Wedding Wish page. I still prefer to respect their privacy though, and they'll always be in my heart.